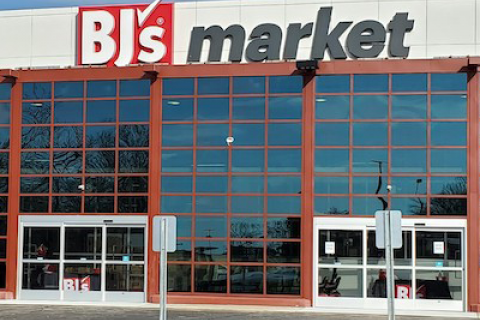 BJ's Wholesale Club has unveiled its new smaller store design, which is half the size of a full-sized club store, with the opening of BJ's Market in Warwick, R.I.
BJ's noted members will find the same pack sizes and pricing as in full BJ's clubs, as well as the same services, such as curbside pick-up, same-day delivery and Express Pay. In addition, BJ's Market will include testing of new product assortments, displays, product sampling and demonstrations, and convenience initiatives, the company said. The product mix will also feature BJ's Wellsley Farms and Berkley & Jensen own brands.
The new retail concept is designed to provide a "convenient, efficient shopping experience," offering a mix of top-selling fresh foods, produce, sundries and seasonal products, among other items, according to the Westborough, Mass.-based warehouse club chain.
"BJ's Market will serve as an exciting new innovation lab for BJ's Wholesale Club," Bill Werner, executive vice president of strategy and development at BJ's, said. "We are bringing the same great savings and value our members know and love but delivering a convenient location closer to home."