Upcoming Events & Happenings
Jac Ross / October 5 / Sprouts Farmers Markets
Vinima K Shekhar & Simone Parry / October 12 / Walmart
Dr. Rachel Bukowski, Megan Sparks, Nadiya Amlani, & Lauren Taggert / October 26 / Whole Foods Market & Amazon Fresh
Where do you go to learn about developing and marketing store brands. There are no MBA programs. It takes too long to learn the secrets of the trade as an apprentice. The answer for more than 1,900 graduates has been PLMA's annual Executive Education Program.
From our President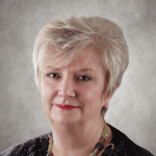 Peggy Davies
Like you and your family, the PLMA staff is now fully engaged in Fall planning.
In case you missed it, the Meet the Retailers banner at the top of the Web site is announcing an exciting new PLMA program where you'll hear from leading retailers on what their store brand philosophy and goals are, and what they look forward to seeing at PLMA's upcoming "THE STORE BRANDS PHENOMENON" Private Label Trade Show in November.
Did you know that all PLMA member companies -- manufacturers, brokers and suppliers -- receive discounted registration rates to attend PLMA's 2023 "THE STORE BRANDS PHENOMENON" Private Label Trade Show November 13-14 and PLMA's Executive Education program November 11-12?
As a member your trade show badge is a ticket to join your peers at the Hyatt Regency O'Hare on Sunday, November 12, for PLMA's Opening Seminars in the afternoon and for PLMA's Opening Reception in the evening.
Paying less for the PLMA's Annual Private Label Trade Show is just one benefit. Becoming a PLMA member is an investment that delivers real-time solutions throughout the year to help your business not only thrive today but also prepare for tomorrow's challenges. 
We have an exciting fall lineup and hope you'll join us as we continue to roll out executive programming created to address the ever-changing private label industry and needs of our membership.
President | Private Label Manufacturers Association | New York, NY