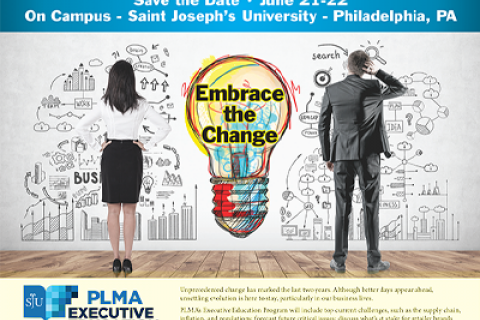 After two years as an online event, PLMA's Executive Education Program will take place live and in person on campus at St. Joseph's University in Philadelphia June 21-22. Over two days, PLMA's Executive Education Program will focus on current challenges, including supply chain issues, inflation, and what issues may develop as we move forward.
The theme of this year's program is "Embrace the Change." Unprecedented forces are impacting nearly every aspect of the grocery industry over the past two years. Product innovation and format development to online ordering and delivery options and pricing strategies have all changed. While better days seem to lie ahead, major transformation and the evolution of all aspects of retailing will remain.
Presenters will include Jac Ross, the Vice President for Own Brands at Sprouts Supermarkets, who will discuss innovations in products and packaging; and John Evans, the Director of Private Brands, GM, HBC, and Non-Foods at Weis Markets, who will examine the role of the retailer in the private label industry.
Since the program's inception in 2001, more than 2,000 men and women have graduated from PLMA's Executive Education programs. Classes are perfect for new hires, those who built their careers working for national brands, or any professional in the field who is looking to refresh their knowledge, broaden their focus and sharpen their ability to think and interact strategically.
To register or receive more information about the program, visit PLMA.com or contact Julia Meehan at education@plma.com