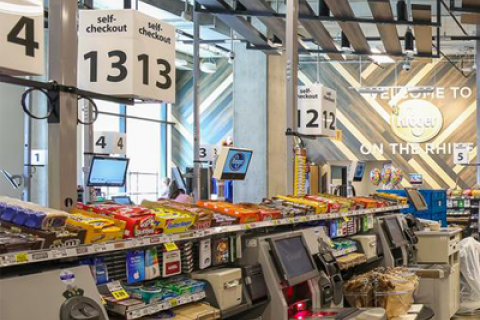 Kroger has announced plans to introduce new, larger self-checkout lanes in dozens of its stores in greater Cincinnati, Dayton and Northern Kentucky.
The new stations will operate much like regular self-checkout stations. Shoppers will scan their own purchases, but the difference is once an item is swiped a belt moves it directly to a bagging station, where a courtesy clerk will bag the groceries. The new checkout system is also seen as a way Kroger can help offset the nationwide labor shortage and help customers speed up their checkout times at stores.
Until this month, only two stores in the nation – both in the Columbus area – were testing the lanes. This spring, 42 stores or roughly a third of local Cincinnati region stores will get two lanes apiece. The first ones have already been installed in four stores. Kroger operates regional supermarket chains in 35 states, including Fred Meyer, Harris Teeter, Ralphs, Mariano's, Fry's, Smith's, King Soopers, QFC and others.