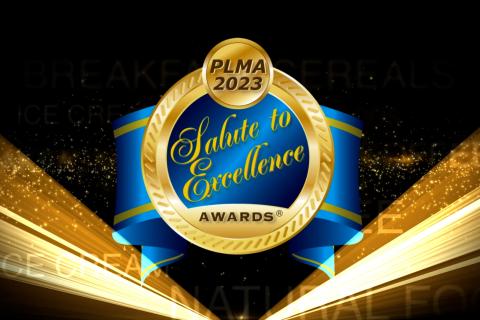 Albertsons, Amazon, Giant Eagle, Walgreens, Walmart Are Among the Retailers Recognized for Store Brand Innovation
 CHICAGO (November 12, 2023) - Sweet potato pancake mix from Giant Eagle, cauliflower-crust pizza from Albertsons and potstickers from Amazon are among PLMA's 2023 Salute to Excellence award winners for store brand innovation.
They join nearly 100 Salute to Excellence winners announced today at PLMA's 2023 Private Label Trade Show here. Created in 1986, the annual awards program recognizes outstanding food and nonfood products introduced within the last year by supermarkets, drug stores, mass merchandisers, convenience stores, online retailers, wholesalers and more.
This year, close to 750 product entries were submitted by 53 North American retailers.
"PLMA is thrilled to celebrate the winning retailers for their commitment to store brand product and packaging excellence," said PLMA President Peggy Davies. "From innovations in flavors and ingredients to vitamin-enriched health and wellness products, the Salute to Excellence award winners underscore the important role of store brands."
Submissions were sampled and evaluated by a panel of professional and consumer judges on several criteria, including taste, product concept, packaging, and value for money.
Among the winners:
Gluten-Free Goodness:
 - Open Nature® Cauliflower Crust Garlic Chicken Alfredo Pizza from Albertsons Companies
- Nice!® Gluten-Free Vanilla Crème Cookies, Walgreens
Specialty Sauces, Rubs and Condiments:
 - Lowes Foods Premium Brown Bag "Truffle Your Feathers" Black Garlic Truffle Sauce, Lowes Foods
 - Great Value™ Blood Orange Balsamic Glaze with Balsamic Vinegar of Modena, Walmart Inc
- Bowl & Basket Specialty™ Smokey Candied Bacon Sriracha Rub, Wakefern Food Corp.
Fancy Breakfast Foods:
- Nature's Basket™ Sweet Potato Pancake and Waffle Mix, Giant Eagle
- Irresistibles Pina Colada-Flavoured Muffins, Metro Richelieu Inc.
- Thrive Market™ Organic Infused Maple Syrup, Warm Pumpkin Spice, Thrive Market
- Good & Gather™ Blueberry Muffins with Zucchini and Oats, Target
Global Tastes:
- Aplenty Asian-Style Chicken and Vegetable Potstickers, Amazon
- Yesway® Chamoy Chili Peach Rings (candy), Yesway Convenience Stores
- SE Grocers Naturally Better Organic Mexican-Style Street Corn-Flavored Corn Chips, Southeastern Grocers
- Crav'n Flavor™ Single-Serve Miso Chicken Ramen Soup Bowl, Topco Associates LLC
Wellness Cleanses/Powders:
- Sprouts Farmers Market® Regenerative Organic Liver Cleanse, Sprouts Farmers Market
- 365 by Whole Foods Market Effervescent Vitamin C Powder, Kiwi-Strawberry, Whole Foods Market
The winning products are on display at PLMA's 2023 "THE STORE BRANDS PHENOMENON" Private Label Trade Show, which opened today and runs through Nov. 14 at the Donald E. Stephens Convention Center. The full list of winners can be viewed at www.plmawinners.com.
 About PLMA
The Private Label Manufacturers Association (PLMA) is a non-profit trade organization founded in 1979 to promote the store brands industry. With executive offices in New York and International Council offices in Amsterdam, PLMA represents more than 4,000 member companies worldwide. In addition to the Annual Private Label Trade Show in Chicago and its World of Private Label Trade Show in Amsterdam, PLMA provides annual conferences, executive education and professional development opportunities. Follow PLMA on plma.com, plmainternational.com, and on social media: