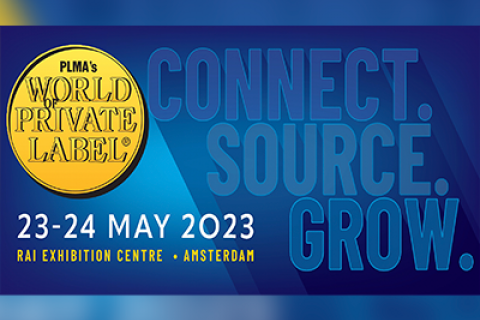 PLMA's 2023 "World of Private Label" International Trade Show, which was held May 23-24 at RAI Amsterdam, welcomed a record number of over 16,000 trade visitors from 120 countries worldwide. The numbers beat pre-pandemic levels and confirm that the private label industry is fully back in force.
Some 2,650 exhibiting companies from 72 countries presented thousands of products at the show. Exhibitors reported that, as usual at the PLMA show, visitor quality was impeccable. Many new contacts were made, meetings with existing partners took place and groundwork for future deals was laid.
Among the main attractions were also PLMA Idea Supermarket and New Product Expo, presenting one centralised display of private label innovation and new product development.
The event kicked off with the well-attended pre-show seminars on Monday May 22. For the current year 2023, private label is expected to grow with 2-3% points in Europe, with strongest growth in Eastern Europe. "PL is having a winning momentum, so now is the time to positively connect with your shoppers", said Servé Muijres of GfK.
Both NielsenIQ and GfK confirmed Europe as the biggest market for private label, with a 34% market share. What's more, across countries and across product categories, private label is still gaining market share.
In a presentation at the Show, Arjan Both of Walmart explained how the world's largest retailer has been working on its strategy to build the most trusted and resilient supply chain. The company is very much open to doing business with European private label suppliers who are recognised globally for setting the bar.