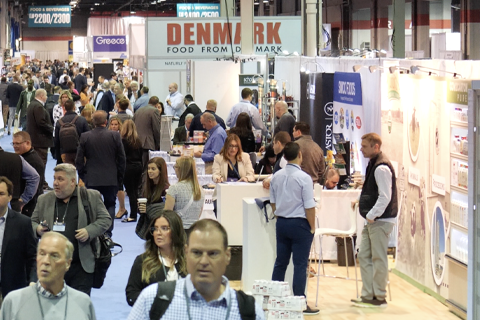 NEW YORK (NOVEMBER 15, 2023) - PLMA's 2023 Private Label Trade Show was a phenomenal success. A record 1,685 exhibitors showcased the hottest new products, flavors, packaging, ingredients and services.
More than 13,000 exhibitors, retailers and other visitors experienced the excitement of the largest event for store brands in North America. It was held Nov. 12-14 in Chicago.
The sold-out show floor had 2,740 booths featuring the latest innovations in food, beverages, health and beauty, baby care, household goods, kitchenware, general merchandise, wine and spirits, pet care, refrigerated and frozen foods, and much more.
"PLMA's 2023 'THE STORE BRANDS PHENOMENON' Private Label Trade Show provided unparalleled access to a wide assortment of products across all categories. We are enjoying a growth spurt with nearly 600 new exhibitors added to the show this year. And, within our non-food South Hall, a section was dedicated to Beauty & Cosmetics (including color, fragrances, skincare, and men's grooming), as well as Kitchenware and Housewares," said PLMA President Peggy Davies. "The event started with Opening Seminars on Sunday, and it was a networking palooza."
Among the product trends spotted on the show floor:
Plant-Based Power - To elevate the plant-based dining experience, manufacturers are offering new options in ethnic meals as well as convenient handheld snacks: beefless Korean bulgogi, porkless carnitas, plant-based butter "chik'n" and alternative chicken fries, fish sticks mozzarella bites. 
Spicy Snacks - The global shift to spicy food options has found its way into the snack aisle, which is heating up with new flavor combinations featuring jalapeno, chili, habanero and other spicy peppers: Jalapeno cheddar trail mix; habanero pork rinds; spicy jalapeno sweet potato chips; habanero nacho sweet potato chips; and pineapple habanero honey roast sesame sticks.
Specialized Skincare - Responding to growing concerns about appearance among the aging population, suppliers have expanded product lines of skincare products marketed for their moisturizing and anti-aging properties, specialized formulas and ingredients: Serums with wrinkle-improving functions; hydrating facial cleansers with ceramides and hyaluronic acid; and glycolic acid cleansers.
Tropical Tastes - The popularity of plant-based diets coupled with increasing awareness about health benefits of coconut are driving growth of coconut-based baking food, snacks and beverages: Coconut water, coconut chips, coconut sugar, coconut pet treats, coconut flour and ube-filled coconut rolls.
Green Parenting - Parents are increasingly concerned about the environmental impact of the baby products they buy. They are on the lookout for products made with biodegradable, compostable and reusable materials: Bamboo diapers and baby wipes; and biodegradable wipes. 
Innovations like these have contributed to the impressive performance of store brands. PLMA projects total U.S. store brand dollar sales for 2023 will reach $233 billion, an increase of about $4 billion over 2022, based on Circana data.
The power of private brands is reflected in significant increases in exhibitor participation at the Annual Private Label Trade Show. Nearly 600 exhibitors were new to show this year. 
The 2023 show was 20% larger than last year, resulting in an additional 435 exhibit booths. Non-food exhibitors alone have increased by 45%.  
There was a strong global presence: more than 45% of the exhibit floor was filled with food and nonfood suppliers from outside the U.S. About 760 specialty food and nonfood exhibitors from 60 countries are represented at the Show, including 40 country pavilions, such as Australia, Belgium, Brazil, Canada, Chile, China, Colombia, Denmark, Estonia, France, Georgia, Greece, Guatemala, Italy, Japan, Jordan, Lithuania, Peru, Republic of Serbia, South Africa, South Korea, Spain, Thailand, Turkey, Ukraine, and the United Kingdom, among others. 
 About PLMA
The Private Label Manufacturers Association (PLMA) is a non-profit trade organization founded in 1979 to promote the store brands industry. With executive offices in New York and International Council offices in Amsterdam, PLMA represents more than 4,000 member companies worldwide. In addition to the Annual Private Label Trade Show in Chicago and its World of Private Label Trade Show in Amsterdam, PLMA provides annual conferences, executive education and professional development opportunities. Follow PLMA on plma.com, plmainternational.com, and on social media: