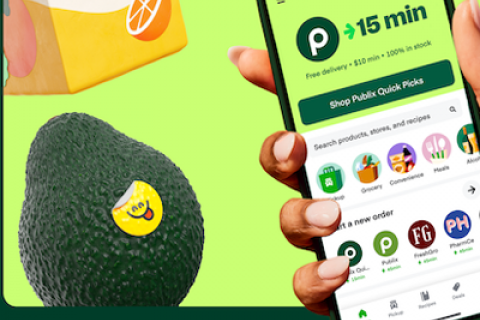 Publix Super Markets has begun rapid grocery delivery in the Miami area using Instacart's Carrot Warehouses nano-fulfillment solution.
Through this new service, Publix customers, via Instacart, can order from an assortment of thousands of products and have them delivered in as soon as 15 minutes to the grocer's customers in the Brickell, Coral Gables and Wynwood, Fla., neighborhoods.
Using the Carrot Warehouse model, Publix can offer items ranging from fresh produce, dairy and meat to pantry staples, household goods and other products from nano-fulfillment centers for 15-minute delivery. Publix customers can access the 15 minute delivery service through Publix's mobile app, website or via the Instacart App.
Publix and Instacart have a relationship dating to 2016, when the companies first started same-day Instacart delivery, then expanded the partnership to other stores by 2017. Publix also piloted Instacart curbside pickup in September 2017 before deploying it to nearly all of their stores.
Instacart reported the Carrot Warehouse solution enables the supermarket chain to provide a wider online selection to customers than "the industry standard" for rapid grocery delivery and ensure nearly 100% in-stock availability.
Publix, based in Lakeland, Florida, is the first grocer to develop new fulfillment models with Instacart using Carrot Warehouses. Through the end-to-end solution, Instacart works with retailers to enable customized, fast delivery service, and establish nano-fulfillment centers.
Publix operates 1,295 stores in Florida, Georgia, Alabama, Tennessee, and South Carolina.