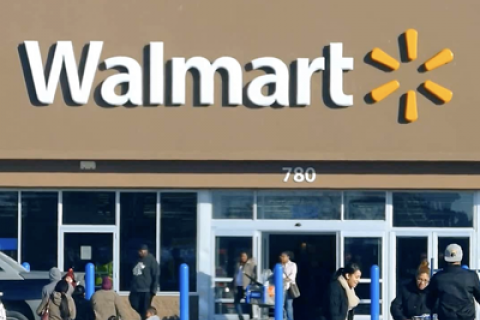 During the company's first quarter earnings conference call, John David Rainey, executive vice president and chief financial officer, said private brand penetration at the retailer's U.S. store continues to increase for the third consecutive quarter. Walmart's store brands grew 1.1% in the latest quarter, on the heels of growth of 1.6% in the fourth quarter and 1.3% in the third quarter. 
"You're seeing (private brand share) come up," said Doug McMillon, Walmart's CEO. "We have more influence over what's happening with private brands than we do with branded products."
McMillon pointed out difficult economic times have been sending more shoppers to Walmart as they seek lower prices and, in addition, buy its store brands for the savings. Officials did not reveal which product categories are seeing the greatest growth in private brands.
In Walmart stores, the company reported, general merchandise sales declined while food and consumable sales increased by low double digits. Inflation in food and consumables was down more than 4% throughout the first quarter the company said. However, as prices remain high, customers are spending cautiously on discretionary categories.
As the retailer continues to navigate the challenging economic waters, its consolidated revenue in the first quarter was up 7.6% to $152.3 billion. Net sales in the U.S. were up 7.2% to $103.9 billion. Comparable store sales in Q1 were up 7.4%.