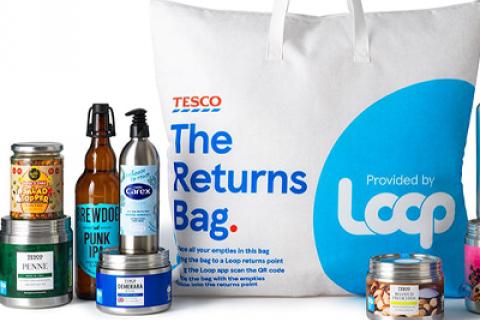 In its determination to tackle plastic waste, retailer Tesco has launched in-store dedicated fixtures offering a range of consumer goods in durable, waste-free packaging designed to be returned, industrially cleaned and reused. Across ten stores, over 80 products, almost half of which are Tesco own label, will be offered including food and beverages, beauty, personal care and household cleaning items.
Customers can visit the aisle and put products in their baskets as usual. They don't need to bring their own containers or refill packs themselves because the products are prefilled in reusable containers. A refundable deposit starting at 20p is paid on each reusable product at checkout, which is refunded via an app when the customer returns the packaging to a collection point in the store.
Depending on the success of the trial, the refillables feature will be extended to more stores and more products. The environmental impact of switching just three items of the weekly shop "could be enormous" the supermarket said. The company partners with global reusable packaging platform Loop for the project. Loop has also worked with Carrefour, Kroger, Walgreens, Aeon and Woolworths.